JIPB will consider for review manuscripts previously posted as preprints on non-commercial servers such as ArXiv, bioRxiv, psyArXiv, SocArXiv, engrXiv, etc. Authors may also post the submitted version of their manuscript to non-commercial servers at any time. However, authors are requested to update any pre-publication versions with a link to the final published article.

JIPB strives to publish papers of the highest quality and originality with the shortest possible turnaround time. All manuscripts received are subjected to a preliminary scope/quality examination by our Manuscript Manager and Co-Editors-in-Chief. Papers beyond the journal's scope will be returned to the authors without review. Experts will review manuscripts that meet the journal's initial requirements and a preliminary decision will be made in two to three weeks. The final decision of acceptance or rejection rests with the Board Members. Papers are usually published in chronological order of acceptance.

Manuscripts should be written in a clear, concise, direct style so that they are intelligible to the professional reader who is not a specialist in the particular field. Manuscripts with poor English will not be considered for peer-review. Non-native English speaking authors who think their manuscript would benefit from professional editing are encouraged to use a language-editing service.

JIPB collaborates with the editing services: Plant Editors (JIPB has no financial interests with the company). Please see Plant Editors at https://planteditors.com for more details and to get a quote for editing your article.

When contributions are judged as acceptable for publication on the basis of scientific content, the Editor and the Publisher reserve the right to modify typescripts to avoid ambiguity and repetition and improve communication between authors and readers. If extensive alterations are required, the manuscript will be returned to the author for revision.

All editors and reviewers are required to follow the general policy regarding "conflicts of interest." Authors may request reviewers, but should not request people who have a conflict of interest as defined by the policy. Editors are permitted to use any reviewer reasonably believed to be an appropriate scientific expert, except reviewers who would be excluded by the conflict of interest policy. If authors wish to request the exclusion of certain reviewers for other reasons, specific justification must be provided in the cover letter; such requests may be considered at the discretion of the Editor.

If revision is required, authors should carefully evaluate the comments from the reviewers and revise the manuscript accordingly and give clear explanation of what has been changed and what has not and why. Failure to do so may lead to direct rejection. The Editor will evaluate revised manuscripts and determine whether further external review is required. The board will normally consider only one round of revision, and the revised manuscript must be submitted within one month, unless an extension is granted. In the case that extensive revision, including additional experimentation is required; the general policy is to decline the manuscript, in which case editors may choose to encourage resubmission.

In submission of a revised manuscript, the original manuscript ID may be included in the cover letter, which may allow the board to choose the same Editor to handle the manuscript. Resubmissions are subjected to a full review process.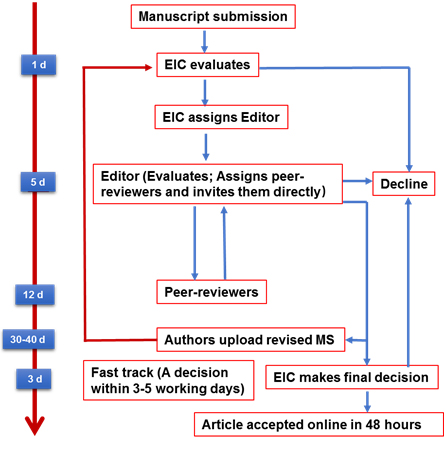 Manuscript handling workflow